Like to be a part of our up coming events at Aussie Saddlery? Follow us on Facebook for all information.
Aussie Saddlery 2023 VIP Event.
The Aussie Saddlery 2023 VIP Event is all wrapped up and what a day we had!!
We had the best day showcasing our store, our products and brands and catching up with new and long time customers.
A busy start with many customers lining up at 8.30 to grab the best deals and the crowds continued into the afternoon. There were many stands and information talks happening throughout the day including the
Equinade
hoofcare demonstration with our new Aussie Saddlery Ambassador
Samantha Crouch
, the
Kohnke's Own
reboot hoof Q & A with Dr. Phillippa Kohnke and the Trick Ponies performed with
Nicole Kennedy
.
Many many gift bags and prizes were given out including the Status E2 Saddles giveaway and the
Crown Equestrian
red carpet fashion parade was showcased by our beautiful models.
We are truly thankful for all our loyal suppliers who supported us on the day.
There continued support our store is very much appreciated.
Thank you to all our star models
Narsharla
Annie
Bianca
Brenda
Skye
And our hard working staff who loved every second of seeing all your smiling faces.
But most of all, thank you to all our customers who came down to our store for the day. Thank you for supporting our small family run independent saddlery.
AUSSIE SADDLERY VIP NIGHT 2023 COMING SOON!
The Aussie Saddlery 2022 VIP was by far the most successful so far. With a 9am start, we had customers lining up at 8.30 to take advantage of many hot deals. This continued well into the 6pm that night with many enjoying the various displays, information talks, one on one dietary advice and shows throughout the entire day.
Aussie Saddlery 2019 VIP Event
WOW
So Aussie Saddlery VIP is over for 2019 and what a day we had. Even the torrential rain on the lead up couldn't stop us!!
We want to thank each and every one of you who came down to support our day.We are proudly an independent saddlery and thank you for supporting our family business. There were lots of customers who came from a far Sydney, Canberra, Newcastle thank you !!
A big thank you to our supporters on the day who made incredible efforts to get here in the rain. Load 'em Up - Float Training & Transport Vanessa and AB Breaking and Performance Horses Billy and Hannah these ladies had demos running through the morning and already our feedback from them has been amazing.
Thank you to our models who were stunning in the red carpet.
And to our fantastic suppliers who gave up these time on a rainy Saturday and helped our staff out in many hectic, busy moments throughout the day.
BARE Equestrian Hollie and Lisa
Ranvet Neely and Jeff Essential Wrap
Rider World Fiona and Roz
Vetsense Michelle
Without their support and time, events like this wouldn't happen.
And not to mention every company that were involved in making this happen
Zilco - Equestrian Products
Saddlery Trading Company
@National Equestrian Wholesalers
Equine Passion
Baxter Boots & Shoes
@Thomas cook boots and clothing
Horse Show Colour - Professional Horse & Pony no ammonia colour
Nexgard
Hi Shine Equine
EquiDirectory
@Equine Super Goo
Stance Equitec International
Equine Vit&Min
And last but not least, our amazing sponsor Arena Saddles who have supported our event the lucky winner of the saddle giveaway has a brand new dressage saddle coming their way!!


Aussie Saddlery 2019 VIP Event COMING SOON!!!
Aussie Saddlery is pleased to announce their much anticipated 2019 VIP Event. This year we will have our co-host BARE Equestrian in store from 9am with a full range of their tights and clothing range including the launch of their NEW styles.. Also in store will be Ranvet and new range of competition wear and saddlery from Rider World. One lucky customer this year will win a brand new saddle from Arena Saddles. There will be champagne, drinks and nibbles and a red carpet fashion parade from 4pm with the HOT NEW clothing lines in store including from Thomas Cook Boot & Clothing Co.Saddlery Trading CompanyOutback Supply CO Australia .Lucky door prizes and sample giveaways going out ALL DAY from VetsenseEquine PassionZilco - Equestrian ProductsNational Equestrian WholesalersHi Shine EquineStance Equitec International. Equine Super Goo Live demos running all day!! If you haven't yet, be sure to register for the event by clicking the "Going" button to receive a FREE GIFT BAG on the day. Keep up to date with all that's on offer o this page. We look forward to seeing you.Head over to facebook now!!
https://www.facebook.com/events/420779558648074/?active_tab=about
Aussie Saddlery VIP Night 2018 with BARE Equestrian
Aussie Saddlery 2018 VIP event wrap up. Wow what a day!!! We are still trying to catch up from the weekend but thought we'd share a few more photos from the event. We had an overwhelming response from our horse community and at one stage, had the most people we have ever had in the shop at one time!! It was a hugely successful day with lots of lovely comments from our customers, who make doing these special events so worthwhile.
Firstly, thank you to the ladies at BARE Equestrian the major sponsors of this event. We had LOTS of tights going through our register that day and without them giving up their time and generous donations, it would not be the same so thank you Hollie McLeod and Lisa.
Thanks you to our models and workers for the evening and special thanks Rachel and Dacry, you all were amazing.
We are also very thankful to Neely J Hopkins and Jeff essential wrap at Ranvet , Patrick from Vetsense and Ciska and Annie from Horze Australasia for coming down and taking the time to talk to our customers and providing the samples for our gift bags. These are all products we sell everyday, but these guys provide the background and know all behind them.
Many thanks also to Mitavite Central Pet Outback Supply CO AustraliaNational Equestrian Wholesalers Thomas Cook Boot & Clothing Co. Horse Show Colour - Professional Horse & Pony no ammonia colour Stance Equitec Australia Wattlelane Stables Saddlery Trading Company Zilco - Equestrian Products who were also a huge part of our event and products in store.
Thank you everyone again for coming, we need a year to recover (just about) !!'Make sure you keep an eye out for the lucky door prizes for the people who came on the night still to be drawn this week.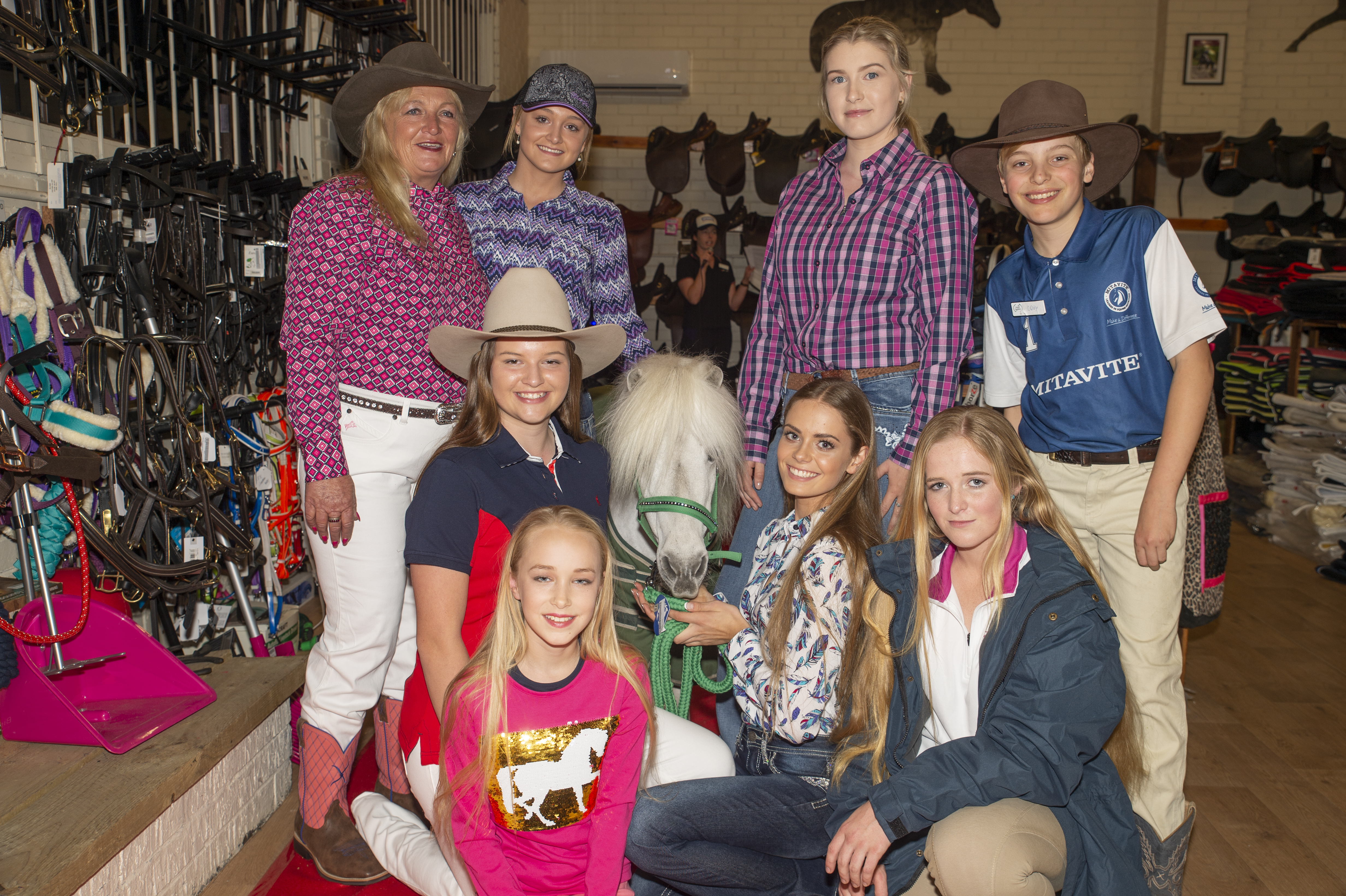 Aussie Saddlery VIP Night with Performa Ride 2017
Check out the latest edition of Hunter and Hawkesbury Equestrian News featuring the 2017 Aussie Saddlery VIP Event with Performa Ride page 12. Magazine available in store now and it's FREE!!!!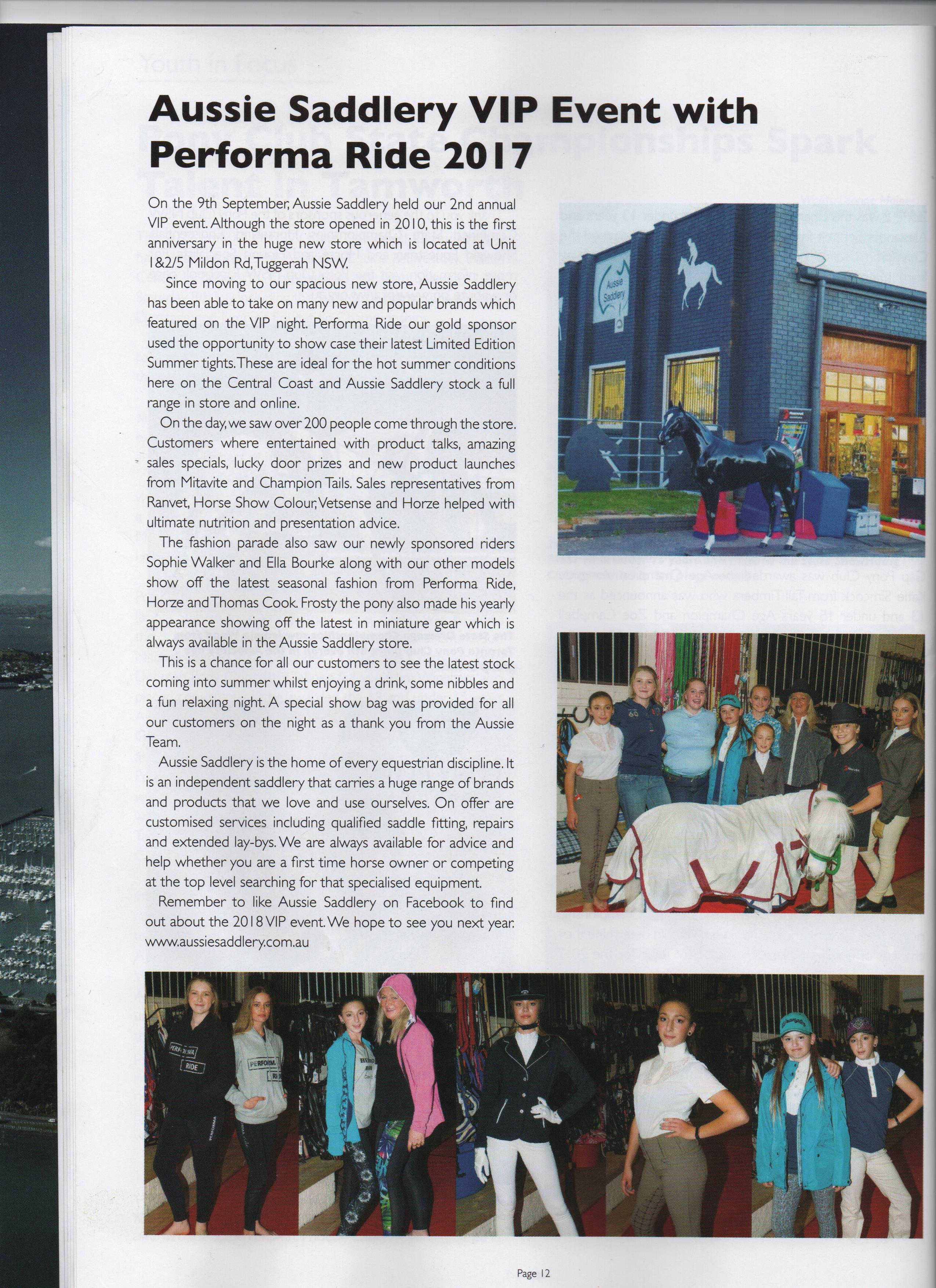 Thank you to everyone who came through for our VIP night. There was so much going on that we literally went through from open to close without stopping!!! We saw the latest range from
Performa Ride
including their Summer limited Edition which were modelled by our sponsored riders Sophie Walker and Ella Bourke along with the other model ladies Ellie, Lana,
Sara, Annie, Skye and Kylie
. Not to forget Cody McPherson an
d
Frosty the Pony. We can not thank them and AnnMaree from Performa Ride for supporting us on the night.
Thank you so much for each and every person who came in to see us as well as all the suppliers that supported us on the night Neely from
Ranvet
Patrick from
Vetsense
Felice from
Horse Show Colour - Professional Horse & Pony no ammonia colour
Ciska from
Horze Australasia
Yvette from
Mitavite
along with all the other suppliers who donated
Thomas Cook Boot & Clothing Co.
Champion Tails
Zilco - Equestrian Products
STC
N.E.W
Cakes by Diane
Danielle Wright Make up
We have already had many people ask about next year but for now, we are still recovering from Saturday!!! Enjoy the photos. Thank you
Gary White
from Gary White Photography
Aussie Saddlery VIP Night with Performa Ride 2016